It was suppose to be much closer than the final score says, but the Chilton/Hilbert wrestlers brought their A game to Kiel last Thursday night.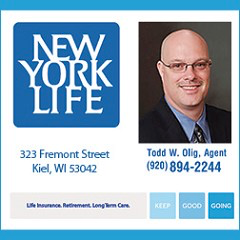 With each team still having conference title hopes Chilton/Hilbert made a statement right out of the gates and cruised to a surprisingly easy 50-12 Eastern Wisconsin Conference dual win over the Raiders at Kiel High School that keeps the Tigers even with Brillion in the standings while Kiel ad any title hopes crushed.
C/H did it behind six pins from Devin Aull, Gaven Lisowe, Reed Breckheimer, Logan See, Phoenix Ladd and Maverik Ott. Joe Boehnlein beat Andrew Schad, a two-time state qualifier, in one of the highlight matches of the night.
Kiel wins came from Cole Pence at 170 pounds, Jason Klauck at 220 and a forfeit win to Max Schaefer at 113.
Omro Invite
Chilton/Hilbert finished second at the recent Omro Invitational. The Tigers had four weight class champions on the day. Joey Boehnlein pinned Kiel's Joah Lund to win at 132 pounds while Maverik Ott pinned Nathan VanGoetehm of Kewaunee to take 138 pounds. At 145, Devin Aull edged Kewaunee's Mitch Thompson, 11-9, to win there and Trent Breckheimer moved to 20-3 on the season with a championship 182 pound fall over Jeb Sippel of Kiel.
Hunter Heller went 3-1 at 106 to place second. Dylan Anhalt (152) and Gaven Lisowe (160) also took second.
Kiel was the team champion.
River Valley Invite
The Tigers made the long trek to Spring Green last Saturday and placed second behind Division 1 Waunakee at the Rick Lawinger Invitational hosted by River Valley High School behind three individual champions.
Joe Boehnlein beat Sam Lorenz of Waunakee, 5-3, in the 132 pound title match while Dylan Anhalt won the 152 pound crown on a 5-4 ultimate tiebreaker over Luke Fogarty of Minnesota's Scott West. Trent Breckheimer needed just 47 seconds to win the 182 pound title with a fall over Nate Schreiner of Reedsburg.
Taking second were Phoenix Ladd at 126, Maverik Ott at 138, Gaven Lisowe at 160, Kaiden Mikalowsky at 170 and Reed Breckheimer at 195.