Max Beuthin's desperation three-point shot at the buzzer missed and Chilton rallied from down eight points last week Monday night to edge Ripon, 52-49, in a boys non-conference game at Chilton High School.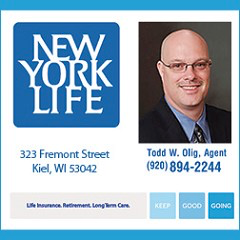 Chilton trailed 45-37 with 7:13 remaining when CHS scored nine straight points highlighted by a Will Kapral slam dunk to gain a 46-45 lead on Ryan Broeckel's bucket with just over three minutes left. A pair of Kapral free throws regained the lead for the Tigers with 13 seconds left and a steal by Brady Glidden set up a pair of Broeckel free throws with one second left to seal the win before Beuthin's shot came up short.
"Ripon has had a tough schedule. A lot of tough losses," said Chilton coach Corey Behnke.
"It's hard to believe they are only a three-win team."
Lukas Halbach tied Beuthin for game scoring honors with 17 points with Broeckel adding 14 and Camden Bowe nine. Broeckel grabbed ten boards for a double-double. Bowe had four steals.
The JV-1 game went to Ripon 56-46. Alex Breckheimer and Mitch Schwobe scored 15 points apiece for Chilton and Mason Mertz had eight.
The Tiger JV-2 team rolled to an easy 64-34 win. Warren Wilcox exploded for 25 points while Austin Grube had nine points and Max Mueller eight.
Jets defense smothers CHS
A stingy defense by defending WIAA Division 4 state champion Manitowoc Roncalli stymied the Tigers last Thursday night and the Jets posted a convincing 50-27 Eastern Wisconsin Conference win at CHS.
Chilton was held to just ten first half points and the offense never got untracked against the co-leaders of the EWC.
Camden Bowe led CHS scoring with ten points and Ryan Broeckel had eight. Chilton was outrebounded 32-20 and shot just 2-16 from three-point range.
Chilton was at Iola-Scandinavia this past Tuesday for a non-conference game and another huge EWC test awaits them Thursday as the other EWC co-leader Sheboygan Falls comes to CHS.