As we close out the final six months of 2019 Chilton Sports, the time is highlighted by the Tiger football team as they welcome back the 1969 unbeaten, untied squad and then proceed to advance farther in the WIAA playoffs than any other Chilton team. Those and some other key moments from July to December: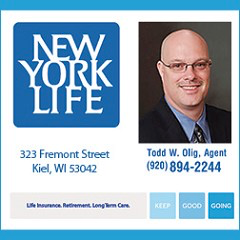 JULY
*Hilbert/Stockbridge is represented by four players on the 2019 All-Big East Conference Softball Team. Heading the list is senior shortstop Brianna Ecker. Ecker was voted First Team by Big East coaches. Joining her with honorable mention status from Hilbert/Stockbridge are third baseman Sydney Koenigs, pitcher Grace Vande Hey and outfielder Megan Propson.
*Hilbert/Stockbridge put two players on the First Team 2019 All-Big East Conference Baseball Team. Junior Adam Diedrich and sophomore Ridge Guyette each made it as infielders. Diedrich also made Second Team as a pitcher with Grant Propson and Sawyer Levknecht joining him there.
*The Ninth Annual Matt Kolbe Memorial Fundraiser is held at Nennig Park in Chilton. The event features baseball, softball and bean bag tournaments.
AUGUST
*A special night for Chilton's first home football game of the season. It's the 50th anniversary of the unbeaten, untied and unscored upon 1969 Tiger team that included NFL Hall of Famer Dave Casper. Most of that team, including Casper and reunion organizer Mike Schmidlkofer are on hand.
*Chilton football beats Crivitz and Winnebago Lutheran Academy to open the season.
*Jody Schwarz debuts as head coach and the Brillion/Valders/Chilton girls swim team adds a fourth school to the co-op as Kaukauna jumps on board.
*Sam Lamers takes over as head boys soccer coach at Stockbridge.
SEPTEMBER
*An annual Chilton event is the Tiger Cross Country Invitational. Emily Hoerl finishes second individually for the CHS girls while the boys team takes second to defending state champ Valders. Wyatt Schmitz leads Chilton with a seventh place finish.
*In the pool, Gracie Streblow wins two individual events and joins Alyce VanDenWalenberg, Brooke Nenahlo and Jalena Behnke on the first place medley relay team at the Plymouth Invitational.
*Calumet County rivals Stockbridge and New Holstein/Elkhart Lake-Glenbeulah met on the boys soccer pitch for the first time and the Huskies pulled away late for a 4-1 non-conference win in the match at NHHS. It would be the Indians getting on the board first when Ian Smith nailed home a shot from just outside the 18 yard box and past NH/ELG goalie Deegan Kossman, assisted by Noah Hermann. The Huskies got the equalizer about ten minutes later. Hayden Schultz took a feed from Adam Scholz and knocked it past SHS goalkeeper Jake Willett.
OCTOBER
*It took awhile for the Tiger volleyball team to get going, but once they did, there would be no denying them. Chilton slept walk through a 25-10 first set loss at Brillion before rallying to down the Lions 25-13, 25-19, 24-26, 15-13 and even their Eastern Wisconsin Conference record at 3-3. Kelli Sullivan had ten kills with a 25.6 kill percentage and Callie Woelfel smoked eight spikes at the Lions. Shayla Rees had seven and Megan Meyers five. Alannah Hughes at 38.5 had the best kill percentage.
*Gavin Lisowe had a night to remember. On the other hand, Valders had a night to forget.
Lisowe returned two Viking punts for touchdowns and added a rushing TD as Chilton clinched a second straight WIAA football playoff berth with a dominating 49-0 win over the Vikings on the Tigers Homecoming Night at Morrissey Field. The win also allowed the Tigers to get the Hwy. 151 Trophy for the first time since the award was implemented.
*The Tiger boys cross country team won its first invite of the season holding off Kiel for top honors at the Russ Fameree Invitational hosted by Luxemburg-Casco at the Northbrook Country Club. Chilton placed two runners in the top six and its five scoring runners in the top 22 to beat out Kiel, 47-55. Wyatt Schmitz again led CHS coming in fourth at 17:15 with Phoenix Ladd sixth at 17:19. Will Kapral was 14th at 17:35, Eric East 18th in 18:01 and Alek Lemke 22nd at 18:12. Also running varsity were Brady Woelfel at 18:38 and Will Fuerbringer 19:38.
*The Chilton Tiger football team turned to its defense for a pair of huge goal-line stops as the Tigers opened up WIAA Division 5 football playoff action with a hard-fought 27-14 win over Wittenberg-Birnamwood at chilly Morrissey Field.
NOVEMBER
*Waupaca put an end to the 2019 volleyball season for the Chilton Tigers posting a 25-18, 23-25, 25-17, 25-17 victory in a WIAA Division 2 regional opener at Waupaca. An off night at the net proved costly for coach Leah Cisler's Tigers.
*The Brillion/Valders/Chilton/Kaukauna girls swim team continued its late season surge taking second place in the Eastern Wisconsin Conference Championships hosted by Two Rivers. It was the highest finish in the conference meet by a Chilton co-op team since the 2006 Chilton/Valders team took second to Kiel.
*The 1969 Chilton Tigers are the most revered football team in school history.
Fast forward the calendar 50 years and the 2019 Tigers are making their own history.
Overcoming slick field conditions from an early snow, Chilton got a Superman effort from tailback Gavin Lisowe and key plays from others to score a 41-26 WIAA Division 5 Level 2 playoff win over favored and second-seeded Kewaunee. The win marks the first time in school history that a football has advanced past Level 2. There was no playoff system in Wisconsin in 1969. The following week Chilton falls at Amherst, 24-19, in a Level 3 game.
*Soft course conditions and a chilly air made things rough for participants at the WIAA State Cross Country Championships at The Ridges Country Club near Wisconsin Rapids. Chilton senior Wyatt Schmitz managed to overcome those conditions and placed 82nd overall out of 152 runners in the Division 2 field. His time was 17:36.8, about 21 seconds shy of his season-best time of 17:15 at Luxemburg-Casco's Russ Fameree Invite in mid-October.
*The Stockbridge girls basketball team opened its season on a positive note knocking off Marinette St. Thomas Aquinas, 51-41, grabbing a 30-22 halftime lead.
*The Stockbridge community came out in full force to honor boys varsity basketball coach Dale Forstner and celebrate his 100th career coaching victory at Stockbridge High School which actually occurred last February. However, the Indians did not have any more home games at that point and waited until this season's opener to celebrate.
Even better, Forstner's players rewarded him with an impressive 76-45 win over Lena jumping off to a double-digit lead in the first six minutes and never trailing.
DECEMBER
*Winter sports are underway.