After dropping its first four games of the season, the football shoes are off for Kiel as they won its fourth in a row, a 69-58 win at New Holstein last Thursday evening.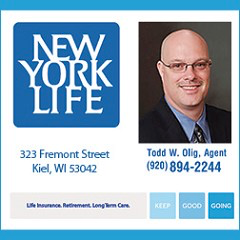 It came as quite a relief for Raider coach Marcus Rumpff who said, "Credit New Holstein. They shot real well. We just took advantage of the opportunities we were given. They are not an 0-9 team. We were able to pressure them and that was the difference."
The Raiders knocked down 12 three-point field goals, ten in the first half that gave them a 36-30 lead at the break.
A Henry Schnell triple gave the Huskies a 58-56 lead with 4:32, but a Connor Voelker bucket and a free throw on the next possession put Kiel back on top for good as they ended the game on a 13-0 run.
"It's frustrating," says NH coach Jason Hoerth.
"We're so close, but we cannot finish games. Tonight it was turnovers. Plus, Kiel was hot from the outside."
Voelker had a season-high 31 points for Kiel who was 22-50 shooting including 12 of 23 from long range. Nathan Goehring had 16 points and five rebounds and Travis Kohlmann 14 points.
For the Huskies, Alex Baackes had 15 points while Sam Casper had nine and Schnell was the super sub scoring nine from off the bench.
"Henry had his best game for us," added Hoerth.
Cougars hold off Huskies
Another tough loss for the Huskies last week Tuesday in Campbellsport as the host Cougars pulled out a 57-51 non-conference win. Dayne Jacobson led NH with nine points while Sam Cady and Sam Casper had eight each. Alex Baackes grabbed ten rebounds and Trevor Roehrig had six assists.
Campbellsport also won the JV game, 45-38. Jaden Braun led NH with 19 points. The JV2 game also went to the Cougars.