The final six months of 2019 New Holstein sports is highlighted by the Husky football team as they again qualify for the WIAA playoffs. That and more from July through December: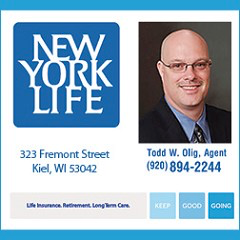 JULY
*St. Cloud is the surprise First Half champion in the East Shore Baseball League.
*The NHHS trap team competes at Nationals in Mason, Michigan. Team members include Luke Halbach, Kadyn Judkins, Weston Pingel, Mason Becker and Samuel Schaefer.
*The New Holstein Chamber of Commerce Golf Outing takes place at Hickory Hills Country Club.
AUGUST
*St. Cloud, Mount Calvary, Howards Grove and Forest are your East Shore League playoff teams.
*New Holstein hosts a season opening cross country meet that includes Chilton, Plymouth, Winneconne, Kewaskum, North Fond du Lac/Oakfield and Elkhart Lake-Genbeulah.
*The Husky football team opens its season with non-conference wins over Belleville and North Fond du Lac.
SEPTEMBER
*It doesn't take long for new Huskies volleyball coach Kim Olson to get her first victory. New Holstein beats Ashwaubenon at the Little Chute Invitational.
*In their tradition boys soccer battle, St. Lawrence Seminary comes to New Holstein and beats the Huskies, 8-1. With a strong wind at their backs to start the game, St. Lawrence Seminary took advantage scoring twice in the first four minutes. Emiliano Ochoa scored unassisted in the second minute and Ben Gamino tallied a mark, assisted by Aaron Tarpinian, at 4:30. Tarpinian and Alex Puente netted goals before Hayden Schultz put NH/EL-G on the board scoring on a penalty kick midway through the first half. It would be 6-1 SLS at haftime.
*Howards Grove beats St. Cloud for the East Shore League baseball title. Josh Ditter, Chris Greuel and Jon Steffes shine for St. Cloud.
*St. Lawrence cross country hosts its annual Hilltopper Invitational that includes New Holstein for the first time.
OCTOBER
*The Ripon College football roster is dotted by three former New Holstein Huskies.
Sophomore linebacker Brad Guell has started in all four games for the Red Hawks. He has 11 solo tackles and four assisted stops. Guell is majoring in exercise science.
Fellow soph Trevor Buteyn is a defensive lineman and has appeared in two of Ripon's four games. He also is an exercise science major. Tyler McCoy has scored a touchdown as a freshman running back. That score game in Ripon's lone win of the season against Finlandia University (Michigan). McCoy has 82 yards on 11 carries and a seven yard pass reception for 89 all-purpose yards. His longest run is for 21 yards. McCoy is a sports management major.
*The standings didn't lie. The top two volleyball teams in the Eastern Wisconsin Conference met on the final night of the regular season and Valders edges the Huskies in five-sets to claim the conference title.
*The return trip to Valders wasn't any better for the New Holstein volleyball team. After dropping a thrilling five-set match to the Vikings a week earlier that decided the Eastern Wisconsin Conference title, the Huskies returned to Valders for a WIAA Division 3 regional semifinal. This time Valders needed just three sets to down New Holstein scoring a 25-22, 25-21, 25-20 win.
*Only six points separated New Holstein from sixth place as the Husky boys had to settle for eighth place with 207 points at the Eastern Wisconsin Conference Cross Country Championships at the Sheboygan Falls Elementary School course. Manitowoc Roncalli was seventh at 202 and Falls was sixth at 201 with Valders again, the run away winner with just 22 points. Coach Mike Hochrein's girls squad was able to have a complete scoring group and also placed eighth with 237 points. Two Rivers claimed the conference title.
*New Holstein football qualifies again for the WIAA playoffs and beats Laconia in its Division 5 opener.
NOVEMBER
*The St. Lawrence Seminary soccer team, seeded ninth, gave top seeded Oostburg all it could handle, but it wasn't enough. Matt Meke scored just under 11 minutes into overtime as the Flying Dutchmen escaped with a 1-0 win in a WIAA Division 4 regional championship match.
*New Holstein's football playoff run ends in a hard-fought Level 2 loss at Amherst.
*Central Missouri Jennies Volleyball, ranked ninth in the nation in NCAA Division 2, rolled into Kearney, Neb. on a five-game winning streak for a top-10 match-up with No. 2 Nebraska-Kearney. The Jens were competitive for the first two sets, but fell in three, 3-0 (25-21, 25-20, 25-11) putting a stop to a five-match winning streak. Freshman Olivia Olson of New Holstein, daughter of John and current New Holstein volleyball coach Kim Olson, has seen some playing time for the Jens. She is a reserve setter and has played in eight sets totaling 13 assists and three digs. She is a nursing major at CMU.
*Dominating in all aspects of the game, the Huskies never trailed on their way to a convincing 48-17 season opening non-conference win over Living Word Lutheran at Jackson in the first-ever meeting between the two schools. Alyssa Wagner-Anhalt hit a jumper just seven seconds into the game and a 12-3 run moments later by the Huskies set the tone for the rest of the night with New Holstein leading 23-11 at the break. The lead just grew bigger after halftime.
* Some former prep basketball players have continued their careers at the collegiate level. After opening the season with a loss at traditional NCAA Division 3 power Hope College of Michigan, Ripon College has responded with four straight victories and sophomore guard Ryan Steffes, a New Holstein High grad, has played a major role.
Steffes has started all five games for the Red Hawks and is averaging 6.0 points and 3.6 rebounds a game.
At Fond du Lac's Marian University, former New Holstein Husky standout guard Luke Bufton has seen action in two of the Sabres' first six games. A freshman guard, Bufton hit a pair of free throws in his teams' Northern Athletics Conference opening game versus Concordia of Chicago, a 100-75 win by Concordia. He also saw action in an earlier game against St. John's of Minnesota, ranked #12 in NCAA Division 3. Marian is presently 1-5.
*In the season opener for the boys basketball team, a strong Howards Grove team scored a 64-48 non-conference win. Alex Baackes had 18 points to lead Husky scoring.
DECEMBER
*In one of its finest tournament efforts in recent seasons, the Husky wrestlers placed second at the recent Oostburg Invitational behind three individual champions.
In the 120 pound title match, the Huskies' Kaleb Lisowe pinned Milwaukee Bradley Tech's Marcus Finks while Trevor Vogel pinned Sheboygan North's Colby Meissner for first at 152.
Jacob Rach is the other champ pinning Brookfield Central's Tommy Maurice in the finale at 182.