New Holstein fired the first few shots, but Kiel didn't panic.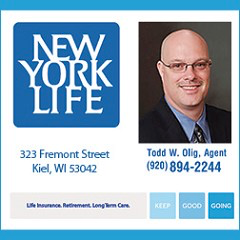 A string of 15 unanswered points paved the way for the Raiders in their 70-47 Eastern Wisconsin Conference girls basketball victory over arch-rival New Holstein at Kiel High School last week Tuesday. It was the 18th consecutive Kiel win over New Holstein with the last Husky win in the series coming in a WIAA regional game in March of 2011, a 56-52 win at NH.
A pair of Olivia Ondrejka buckets and an Alyssa Wagner-Anhalt free throw put the Huskies up 10-5. Then Kiel freshman Emma Adleman drained a three-pointer, one of ten by the Raiders, to start the 15-0 spurt and Kiel never looked back.
It was 36-26 Kiel at the break.
"They (Kiel) shot really well," said NH coach Kevin Meyer.
"If you were a spectator, it was fun to watch. We came out with a great attitude, but we ran out of gas. We're not quite a 36-minute team yet."
Huskies stay in reach
Kiel maintained a double-digit lead, but New Holstein crept within 52-41 with eight minutes left before the Raiders pulled away again.
"Coming in, we told the girls that we had to handle their pressure," says veteran Raider coach Jeremy Bushman.
"At first, we didn't handle well at all. Once we got settled in and got our press working, it was a different game. We're going to need to knock down some outside shots and tonight we did with ten three's."
Rachel Muehlbauer's double-double highlighted Kiel as she scored 18 points and grabbed 12 rebounds. Jocelyn Aprill continued her strong season adding 17 points. Both her and Muehlbauer had three triples.
Grace Schisel led NH scoring with 11 points and Ondrejka had nine.
The JV game was a thriller.
Sydney Pitzen's free throw with .1 second left gave Kiel a come-from-behind 39-38 win over the Huskies, who lost for the second game in a row in the final seconds.
Falls rallies
Kiel was in reach of a huge conference win Friday as they opened up a 28-18 halftime lead over Sheboygan Falls. But Falls stormed back after halftime and took a 49-43 win at KHS keeping the Falcons within a game of first place Valders as the first half of action in the conference came to an end. Kiel fell to 3-4 in the EWC.
Madie Specht's basket with five minutes left gave SF a 39-37 lead and Kiel would not lead again.
"Falls was a big matchup problem for us," said coach Bushman.
"We figured out how to stop Emma Wollart, but we couldn't close things out. This would have been a quality win for us."
Wollert led all scorers with 22 points. Muehlbauer had 13 for the Raiders.
In the JV game, Kiel fell behind 26-7 at halftime and made a brief comeback before falling 38-25. Brooklyn Manz had seven points.